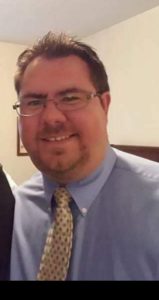 Jeremy Romel
Started at MSU: June 2005
Started with APA: August 2012
Board Member Since: 2019
Current Term: 2019 – 2020
Board Position: Member
Member of these Committees
Community Based Events
Membership
Contract Negotiations Committee (2019)
Contract Bargaining Team (2019)
I went to Grand Valley State University and graduated with my Bachelor's degree in Hospitality Management.
I have had some wonderful jobs before working here at MSU, but one of my favorite job opportunities presented when I was offered to be the Front Office Manager here at MSU at the Kellogg Hotel and Conference Center in 2005. I worked at the hotel for 7 years and enjoyed the wonderful connections I made with guest from around the world. I also loved how I was able to get to network and get to know some great people by working at the hotel.
After 7 wonderful years at the Kellogg Center, I had the opportunity to transition into the residence halls an Operations Manager. I oversaw the front desk operations of our service center desks in East Neighborhood, but specifically oversaw Holmes hall for 5 year. I know have been for the last 2 years working for RHS Human Resources as a Human Resources Coordinator for hiring of service center desk representatives and facilities employees for the residence halls, for RiverTrail Neighborhood.
I love working for MSU! I love how at the University you have so many opportunities to grow, develop, and learn.
I have been a APA member for the last 7 years and I love the resources they offer. I am proud member and was fortunate enough to have been selected to be on this year's Bargaining team to work on our 2019-2023 contract. I am happy to say the hard work paid off and as of Oct 21st, 2019 we have a new contract.  I learned so much and was honored to represent the APA membership by fighting for our rights we have.
I look forward to continuing to work for our membership by being a member of the APA Board and an Area Representative as well.