What is your job title? My official title with MSU is Consortium Coordinator I.  In that role, I manage the headquarters for a national research initiative.
How long have you been at MSU?  I will have 28 years in at MSU on Oct. 1st.
Have you been a member of the APA the whole time?  I've been a member of the APA since April of 2000.  Before that I was in the CT union.
What department do you work in, and can you tell me a little bit about what you do?  I am based in the department of Plant, Soil and Microbial Sciences where I have worked for almost my entire career at MSU.  However, in my current position, my focus is almost 100% outside of MSU. I am the Director of Operations for the Networking and Facilitation Office of the U.S. Wheat & Barley Scab Initiative (USWBSI).  The USWBSI receives funding, approximately $6.2M, through USDA-ARS to work on a disease that effects wheat and barley. I facilitate the call for and review of proposals, organize our annual conference, facilitate annual committee elections and appointments, and act as liaison between ARS and the scientists receiving funding to work on this disease, Fusarium Head Blight.
What brought you to your job at MSU? I have been working for MSU since I graduated from MSU in 1986 with a BA, except for a short four year break when I lived outside of Michigan.  Before my current position, I was a field technician working with the Corn Breeding Program in my current dept. which at the time was Crop & Soil Sciences.
What do you love about working at MSU?  What I love about working at MSU is that in my current position, I am able to work from home.  Also, my family has a long history with MSU. My grandfather worked for MSU extension. My grandmother, mother and one of my sisters all got their bachelor's and master's from MSU, as well as myself and my other sister both got our bachelors here.  I never considered going somewhere else for college and very happy to have been able to stay at MSU as long as I have.
What do you like to do when you are not at work?  Up until about three years ago, I was pretty active, and liked to garden and travel.  However, after four knee surgeries and two shoulder surgeries in 16 months, I've become an avid reader.  I do still like hanging out with my girlfriends and getting together for dinner.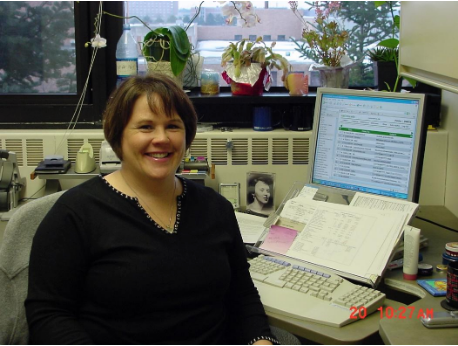 Meet Fellow APA – Susan Canty