by Melissa Sortman, MEA Uniserv Director
The APA bargains a base level wage increase which is applied each October. It is a forty-percent (40%) guaranteed increase and a sixty-percent (60%) merit increase. In October 2014, the potential wage increase was two (2%) percent. In January 2015, APA bargained a lump sum payout of about one-thousand dollars (~$1,000). A member may also be eligible for an Automatic Progression Level (APL) wage increase each year.
The APA bargained a maximum additional APL three-percent (3%) annual raise to increase the salaries of those members who were hired below the progression level wage. The Salary Progression Program can be found in Article 17 Clause 132-137 and the specific progression level wages for the contract year in Clause 145 (www.msuapa.org). The Automatic Progression Level (APL) is based on the grade level and current wage. The grade level directly correlates to your classification title. Unfortunately, the grade level is not on your pay stub. The grade level of your position can be found by calling the APA office or MSU Human Resources.
To be eligible for the APL raise, you must have one year of service and your performance must not be less than satisfactory. It is not a requirement to have been annually evaluated, but you may not have an unsatisfactory evaluation. APA bargains the minimum wage for each grade level and the progression level wage. Each year, both wage thresholds increase by the amount of the full potential base wage increase. For the 2014-2015 contract year, the base level wage increase was two percent (2%).
If your wage for your grade level is under the Progression Level Wage in the chart below, you are eligible for the APL wage increase. The APL raise is applied on your first-year anniversary date and each subsequent year in January.
Article 17, Clause 145
-145                   Effective October 1, 2014 through September 30, 2015, the Minimum Hiring and
Automatic Progression Level rates are: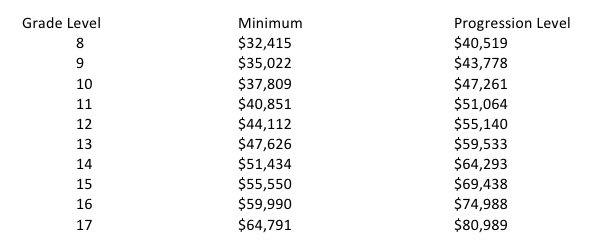 For individual inquires and questions, please contact the APA office at (517) 999-4004 or e-mail msuapa@msu.edu.