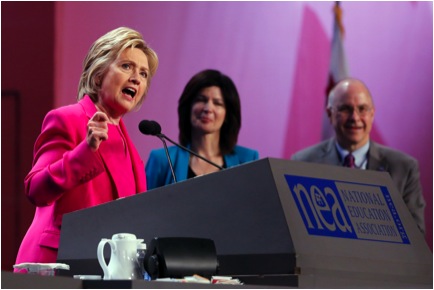 by Maury Koffman, APA President

On July 5, 2016, the Democratic nominee, Hillary Clinton, delivered a rousing address to the National Education Association's Representative Assembly. She began her comments by explaining her vision to strengthen public education, K-12 and colleges and universities. Clinton made it clear that any national campaign to create great schools for every student will only succeed with the strong voices of those educators who serve students everyday.
"I'm with you," the presumptive 2016 Democratic presidential nominee declared to enthusiastic applause. "I have this old-fashioned idea that we should listen to the teachers and the support professionals who are with our kids every day."
Lifting up educators will be central to Clinton's plans for public education if elected in November. In her RA speech, she announced plans to launch a national campaign to elevate our professions that will spotlight the importance of career-long professional development, higher salaries for teachers and support staff professionals, and relief for crippling student debt.
"Unions helped create the strongest middle class in the history of the world. You're not just fighting for your members. You're fighting for your students, and families across the country."
In her speech, Clinton proudly contrasted her vision for public education with that of her opponent in November, Donald Trump. She derided the GOP nominee's plan to eliminate the Department of Education and slash funding for critical programs – from pre-k to Pell Grants – that serve low-income students. "[Trump] has said that America spends too much on education. He would leave our most vulnerable students to fend for themselves. He shouldn't have anything to do with our children's education."
"I'm asking you – and all educators across the country – to work with me. Advise me, hold me accountable. And keep advocating for your students and your professions."